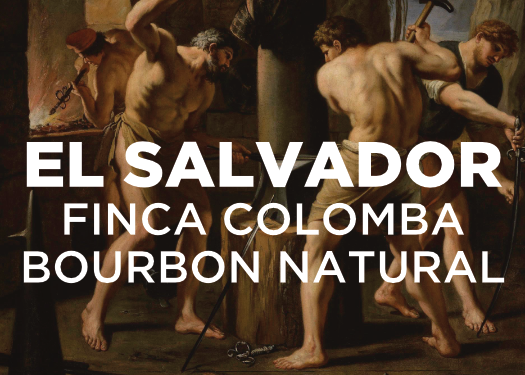 Forge Coffee
El Salvador Finca Colomba Bourbon Natural
El Salvador Finca Columba Nazareno- Bourbon Reposado Natural

TASTES OF:
CONFECTION CHOCOLATE, COLA, CHERRY, CANDIED ORANGE PEEL, CINNAMON, GINGER, HEAVY BODY
Region
: Chalchuapa, Santa Ana Department
Farmer:
 Mario Valiente and José "Fofo" Adolfo Variety: Bourbon
Processing: 
Natural (reposado)
Altitude:
1500m
Freshly picked Cherries are delivered to the wet mill where they are stored in a limited oxygen environment for 36 hours to ferment. The skin and mucilage are not removed from the coffee seed. After 36 hours, the cherries are rinsed and laid out to dry under shade on raised beds.
The Farm and Farmers:
Finca Colomba has been in the Adolfo family for 3 generations. In 1949, Adolfo Mentee inherited two properties from his family in the Cordillera de Llamatepec, on the slopes of the Santa Ana Volcano. At this time, Don Adolfo began planting Bourbon coffee trees at Finca Colomba and Finca San Francisco. Don Adolfo's son, José Adolfo MCentee Batlle inherited the farms and continued the legacy before passing down to his son "Fofo."
After having been kidnapped twice during the civil war throughout the country, José Adolfo emigrated to Miami with his son and left the management of the farm to Mario Valiente, owner of Finca Calera. In 2014, Mario Valiente built Colomba's dry mill so the farm could have direct control over every step of the process from farm to export. Great care is taken preparing each coffee for exporting.
The rich volcanic soil and elevations over 1,500 meters above sea level, come together for ideal growing conditions.
The farm permanently employs 80 people and up to 210 people from nearby towns during the picking season. Aware of the need in the surrounding communities, Finca Colomba supports schools in the area, hosts medical conferences to provide accessible healthcare, and distributes toys to children during the Holiday season.
How to Brew:
Our resident brew master Andrew, found the following hand pour recipe with a Hario V60 displayed some great results.
Equipment:
Hario V60 dripper.
Brew Ratio
: 1:16

Dose Coffee
: 20g

Dose Water
: 320ml
Water
Temperature
: 203 degrees Fahrenheit
Method
: Three pours, all the same amount
Total Brew Time: 2 min. 45 seconds.

Wait
: 45 seconds for coffee to bloom
Second Pour
: 106ml.

Wait:
until 1min, 20 sec.

Third Pour
: 107ml (to bring it to 320ml total)
Let the coffee draw down.
Bed should be clear of water by 2:45-3:00.
---
Share this Product
---
More from this collection