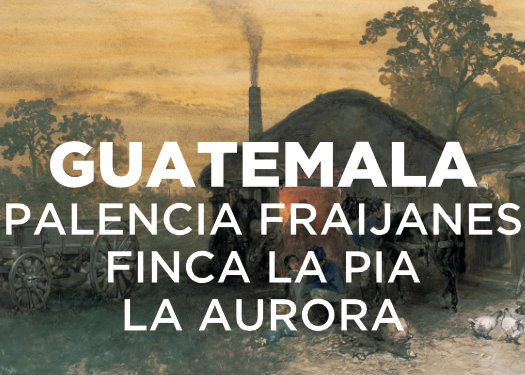 Forge Coffee
GUATEMALA Palencia Finca La Pia La Aurora
Guatemala Palencia Finca La Pia La Aurora Washed
Finca La Pia has a history of quality with multiple top 20 Cup Of Excellence placings.
Tastes of:
La Pia La Aurora should display Caramel fragrance, sweet almond aroma, Milk Chocolate, Sugar icing, orange blossom, bright citrus
Region: La Joya Larga, Palencia, Fraijanes Plateau Region
Farmer: Victor Calderon, Finca La Pia
Variety: Bourbon and Caturra
Processing: Washed 
Altitude: 1700 -1800m
The Aurora lot is created by cupping each daily harvest on the farm during picking days. The highest scoring day lots are separated out for this. coffee.
ABOUT THE COFFEE
The Farm and Farmers:
La Aurora is a traditional washed process coffee. De-pulped cherries, which are washed with clean, fresh water are fermented for 24 hours before being dried on patios. 
Rainfall is approximately about 1,200 mm or 47 inches per year. Don Victor Calderon is the owner of Finca La Pia and implements a variety of very interesting cultivation techniques. Along similar lines of thought to "dry farms" or "natural wines" in the wine industry, Don Victor believes that the coffee plants should receive as little input as possible and uses only natural or organic methods to manage the plant health. Unlike many coffee farms around the world, Don Victor does not feed trees with fertilizers and instead uses a California red worm compost, manure and nitrogen fixating plants to keep the soil healthy. To manage the coffee leaf rust, "la roya", Victor does not use typical sprays but instead applies bentonite clay, which is found naturally in the soil on the farm, on to the coffee leaves. This practice, combined with the organic plant nutrition management yields highly resistant coffee trees with great quality potential! 

The Calderon family has been involved in coffee for nearly 140 years! Victor's great-great-grandfather Don Florencio Calderon acquired a farm by the Guatemalan coast in 1885. This coastal farm focused on volume production, and Don Florencio's descendants kept this business model for many generations. The Calderon family in descending order from Don Florencio, Don Marcos his son, Victor his grandson, Marcos, his great-grandson (and father of the current Victor Calderon) have been in coffee for almost all of Guatemala's coffee history. Along the way, there have been different professions, but the family has always returned to coffee. 

As interesting as the family's long coffee history may be, it has been kept alive by the vision of Don Victor Calderon who noticed the changing trends in the coffee industry and let go of the coastal mass coffee production to specialize in high quality specialty coffees. Don Victor acquired La Pia in 2000 and has focused on cultivating specialty coffee ever since. The farm, as well as producing coffee, is also producing avocado, and some other native fruits to the area. By diversifying the plantation, Don Victor has achieved an interesting balance that allows for a very efficient and productive land.

Being on a dramatic and steep hillside, Finca La Pia is also only planted with coffee in areas that allow for easy and safe movement for the pickers and farm workers. The other half of the farm is steep slopes, rocky terrain and thus left untouched. It is certified by the Guatemalan Institute for forest protection, and registered as a natural reserve, which gives the farm an enclosure that only thick natural forest can provide.

How to Brew:
Hand pour with a Hario V60.

Equipment: Hario V60 dripper.
Brew Ratio: 1:16
Dose Coffee: 20g
Dose Water: 320ml
Water Temperature: 200 degrees Fahrenheit
Method: Bloom, Single center pour
Total Brew Time: 3 min.

 
First Pour: 60ml

 
Wait: 45 seconds - 1 min. for coffee to bloom (up to 1.5 min if coffee is freshly roasted)
Second Pour: 260ml.
Pour slowly in the center, no larger than the size of a quarter, stay away from the sides.

 

When finished pouring, give the dripper a gentle swirl.
Let the coffee draw down.
Bed should be clear of water by 2:45-3:00.
---
Share this Product
---
More from this collection
Liquid error (layout/theme line 325): Could not find asset snippets/spurit_uev-theme-snippet.liquid